When I arrived at the Bellevue Hilton on August 29, 2009, I definitely had a sense that history was about to be made. I also knew that the moment would be fleeting. I was right on both counts.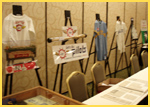 Part of the memorabilia display, including two game-worn uniforms and the fungo bat.

I got there early so I could help my friend, Charles Kapner, set up his display of rare Pilots memorabilia. That in itself was surreal. "Joe Schultz's hat goes over here," he said, "and why don't we put the fungo bat over there, by the home plate from Sick's Stadium?" I was holding Joe Schultz's hat!? I mean, it wasn't exactly David Wells wearing Babe Ruth's hat in a game, but still…I mean, exactly how much Bud was pounded under that particular chapeau? The whole experience became sort of psychedelic when Charles put on his Sick's Stadium usher's jacket—an otherworldly mustard color that hasn't improved with age.

I'd hoped to talk with Steve Cox and his crew a bit more about the documentary they were working on, but they were busy setting up their video equipment. So, while Charles talked with his family, I went over the outline for my talk about why the Pilots left. It helped by taking my mind off my doubts that I could relay such a complicated story in under ten minutes.

I went out into the lobby, to see if anyone was going to show up. Since tickets were only available at the door, we didn't know whether we'd have ten people or a thousand (the final count, I believe, was somewhere around 150).

Suddenly, the players started filing in. They all went right to the memorabilia display and the thing they all found the most entertaining was a color photo of pitcher Dooley Womack holding a bat. I knew Jim Bouton, but hadn't met the others. I introduced myself and was stunned that they all knew about this Web site and liked it. I'm not sure why I found that surprising. I guess it's because building this site is such a solitary activity, just me in my tiny office (literally a converted closet) that I'm always amazed that anyone looks at it, let alone the people involved in the story.

It was taking Steve and his crew a little longer than expected to get set up, but the players took their seats on the stage and when the doors were finally opened, I was relieved to see that we had a decent crowd. It would have been nice to have had a sellout, but that might have been a Pilots first!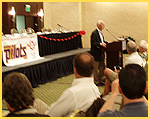 Bill Schonely introduces the Pilots.

Pilots radio announcer, Bill Schonely, introduced the players to a standing ovation and we were underway. Charles went first and spoke from the heart about the team. I'd never seen him speak in public before and was very proud of how well he did. I always like to see my friends do well.

I went next and tried to keep it light. I was a little worried about sounding morose and intimidated by having Pilots PR guys, Bill Sears and Rod Belcher right there. After all, they lived the story I was telling. Afterward, they came up to me and complimented me on how well I did and for adding information that even they didn't know.

Art Thiel, from the P-I, followed me, with a history of Seattle baseball (hey, we may not have had much success, but we have some great stories to tell!). I've enjoyed his columns for a long time, so it was nice to meet him. He's also very tall. I'm six-feet, but he had to be a good six or seven inches taller than me. I also met Jerry Brewer from the Seattle Times. He's another writer whose work I enjoy and he did a great column about the reunion, as did Art.

Jim Bouton told some great, funny stories about the Pilots, including setting the record straight about the Fred Talbot paternity suit frame-up and then the players took questions from the audience. They all expressed genuine affection for Seattle and wished that they'd never had to leave.

After the Q&A, there was a long autograph session and everyone who wanted something signed, did! Everyone had a chance to talk with the players and I like to think that there was some closure on all sides. After all, neither the players nor the fans got to say goodbye in 1970.

With the reunion over, we went down to the Pyramid Alehouse, where an autograph booth was set up. There wasn't any promotion inside the brewery, so I think a lot of people missed it. I thought that was a shame, but at least it gave the players a chance to visit with each other and I had a good visit with Jim Bouton, Gordy Lund, Tommy Davis, Bob Locker and Greg Goosen in particular.

From there, we went to the game, where the Pilots were introduced on the field after a short video history of the team. Jim Bouton threw the first pitch to Jerry McNertney—the first real Pilots pitch thrown since March 1970! It was a knuckleball for a strike. The players were introduced again in the middle innings and then the game ended. I happened to run into them after it was all over and asked Tommy Davis what he thought of the game. "Too many pitches found bats," he replied. I said goodbye to the guys and headed home.

As you may know, I never got to see a Pilots game with my dad and started this site in a effort to recapture a little of the magic of 1969. This event didn't close the circle, but it got me closer. Thanks to Steve, Charles and the Pilots players, staff and fans for getting me there! I know that a lot of fans couldn't make it, so I hope this recap gives you a little sense of what it was like to be there. Thanks for listening.

Mike...
---