Creating a section dedicated to the Pilots' minor league teams has been one of the biggest challenges I've faced in doing this site.

With the exception of Vancouver, all the teams played a great distance from where I live, making library research impractical. Also, neither the Seattle Times, nor Seattle Post-Intelligencer covered these teams. Finally, programs or guidebooks are nearly impossible to find. All that means that this section will likely always be a work in progress.

The Pilots' farm system was a bit odd, in that they shared their AAA team with expansion bretheren, Montreal Expos, and had no AA team. In addition to their three Class A affiliates, the Pilots had an entry in the Arizona Fall Instructional League.

The Pilots got started on their farm system when they bought the P.C.L.'s Seattle Angels after the 1967 season. Some experienced players, including Marv Staehle, were purchased from other clubs and assigned to the Angels. The team had a working agreement with the California Angels, so the 1968 Seattle squad was a combination of the Pilots' acquisitions and players, such as future Mariners manager Chuck Cottier, who belonged to California.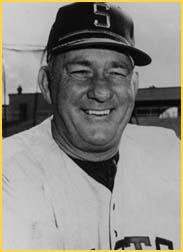 Vancouver Mounties manager, Bob Lemon, at Pilots spring training, Tempe, AZ, 1969.
The New York-Penn League put an expansion team, the Co-Pilots, in Newark, New York for the 1968 season. The players assigned to Newark were mostly amateurs scouted, or drafted by the Pilots, although there some experienced minor leaguers, such as Chico Vaughns, who played at Newark before moving up. Virtually all of the Pilots' farmhands passed through Newark at some point.
Clinton and Billings were added for the 1969 season, while the Angels were folded. Like so many things Pilots, how much the team owed the P.C.L. for its loss of the territory, ended up in court.
To head the minor league organization, the Pilots hired Art Parrack, who held a similar post with the Kansas City-Oakland A's and had previously served as general manager of minor league teams in Tampa, Knoxville and Burlington. Parrack's role, however, seems to have been limited to running the farm system, while the personnel decisions were made by general manager, Marvin Milkes, in consultation with the coaching staff.
The Pilots' Minor League Teams
Interview with Pilots Minor Leaguer, Tom Berg
Many thanks to Alan Rice at the Billings Gazette, Tom Berg, Don Young and Tom Hausman, who all went far beyond the call of duty in contributing to this section. Thanks, too, to Gary Roller of the Billings Mustangs. If you have more information about any of the Pilots' minor league teams, please e-mail me.
---