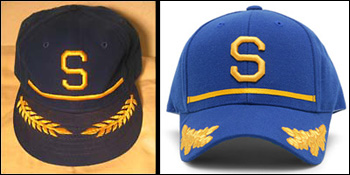 The question I'm asked most frequently is where to buy a Pilots cap. A better question is which version to buy, because a lot of the reproductions are inaccurate. On the left is the accurate cap design (I couldn't get my camera to accurately capture the color--it's actually quite close the other cap). The cap on the right is the most common of the inaccurate caps--note that the design on the bill is radically different, the band above the will is sewn on rather than embroidered and the "S" is close but not quite right. There are also several new cap designs available..

Mitchell & Ness has sold reproduction Pilots jerseys and warm-up jackets for years, but they're sometimes out of stock, so you may have to do a little digging to find one.

Authenticated game-worn jerseys sometimes go on sale via on-line auction houses, but expect to pay $1,500 or more, depending on the player and condition of the jersey.

There are about a half-dozen different Pilots t-shirt and sweatshirt designs, all readily available on-line for $20 to $50, but as far as I know, no one is making reproductions of the original t-shirts. .